[Skeeter] [Aerobat] [Merlin] [DAdams] [Other kits]
---
Dynaflight Skeeter
My second plane, and first hand launch glider, was a Dynaflight Skeeter. I have a small car and there is not all that much room to fit large sailplanes in it, so my second plane was something a little smaller. I also chose this plane because I wanted something a bit more aerobatic than my Gentle Lady. Below are some images of my Skeeter.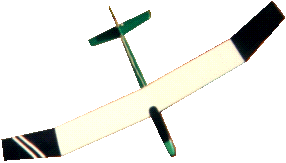 My Skeeter.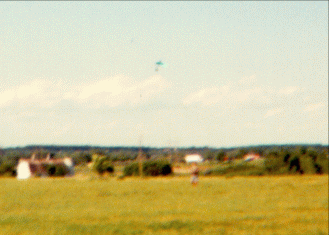 If you look closely you can see me in the
field and my Skeeter about 25 feet above me to
the left going straight up.
---
Self Designed Aerobatic Glider
I have also designed a hlg. It is a little more aerobatic than the Skeeter, since it has ailerons instead of a rudder. The original wing was foam core and balsa sheeted. This turned out pretty heavy, and the ailerons did not provide enough control, so I decided to build a new wing for it. The second wing is ribbed and has bigger ailerons. Below is a picture of the ribbed wing both uncovered and covered mounted on the plane. The weight of ribbed wing is less than half the weight of the sheeted foam core wing.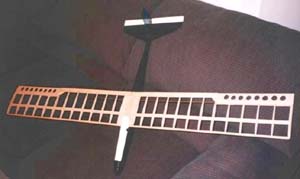 Aerobatic glider with the uncovered ribbed wing.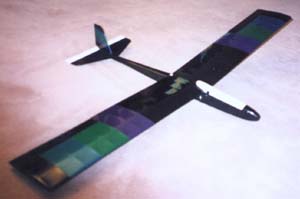 Aerobatic glider with the covered ribbed wing.
Both wings use a RG15 airfoil. Here is a segmented PDF file of the plans for the aerobatic glider (which can be viewed with Adobe Acrobat Reader, download Adobe Acrobat Reader). These are not very detailed, and were mainly put together to get an estimate of the wood needed to make the plane. Below is a picture of my aerobatic glider with the original foam core wing.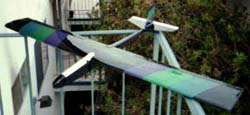 Aerobatic glider with foam core wing.
---
MM Glider Tech Merlin
Another kit I put together is MM Glider Tech's Merlin. This is a nice little kit. It has a pod and boom fuselage construction, the pod if formed plastic, the boom is a carbon fiber tube. The wing is built up and the tails are made from 1/8 inch sheet balsa. It has rudder and elevator control. Below are a couple of pictures of my completed Merlin.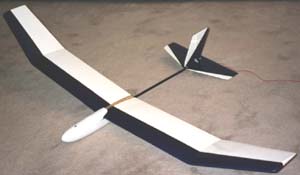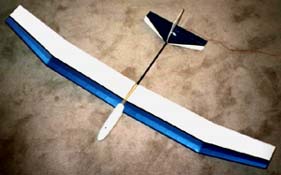 My Merlin.
---
Self Designed "DAdams"
I have another small glider named "DAdams". DAdams is very similar to gliders classified as "Mosquito Class Hand Launch Glider" (MHLG). DAdams has a 30.5in (77.5cm) wingspan (MHLG have a wingspan of 29.5in) and ready to fly weight of 3.5oz (100g). The radio gear consists of two 9g Cirrus CS-20BB servos, FMA's Micro 2000 Rx and a 110mAh FMA battery pack. I have lighter gear, but I put this plane together to use this gear. I wanted to build a small plane I could keep in my car and fly at lunch or whenever the urge hit me. This plane fits easily in the trunk of my car.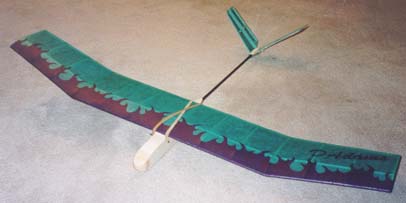 "DAdams", mosquito class hand launched glider.
(There are more images of DAdams at my other site.)
---
Other kits
Some of the other hlg kits I have are MM Glider Tech's Sorceress, Birdi Model Design's Flipper, Peck Polymers' Genesis Flying Wing, DJ Aerotech's Chrysalis and Hobby Shacks' Ridge Runt. Now if I could only find the time to get them out of their boxes and on to my building table...
---
[Skeeter] [Aerobat] [Merlin] [DAdams] [Other kits]
---
© 2001-2004, Matthew J Litke